9th January 2004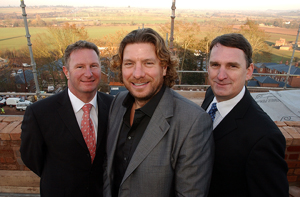 Pictured is Harry Marcuse-Harris, Neil Grinnall and Jeremy Ruck overlooking the Hadzor Hall development site.
One of the Midlands most dynamic and fastest growing developers the Neil Grinnall Group has boosted its expertise to an all time high with the appointment of two new Directors to its eight strong Board team.
Jeremy Ruck is recruited as Technical Director and Harry Marcuse-Harris as Construction Director. Both will help deliver fast track development processes for the Stourport on Severn based firm who has ambitious expansion plans to deliver a turnover in excess of £100m in 2004.
Jeremy Ruck, who brings over 10 years of experience working for a major house builder, will oversee each development for Worcestershire based Neil Grinnall Group from the post planning stage through to construction. 47-year-old Mr Ruck's previous experience with leading Midlands architectural practice Corstorphine & Wright and the Berkley Group will ensure he plays an instrumental role in assisting the Neil Grinnall Group to achieve their goals .
Mr Marcuse-Harris brings 30 years of experience to the Worcestershire based developer, covering all aspects of construction and project management. Beginning his career as a carpenter, he has worked for a number of the UK's leading house builders and joins the Neil Grinnall Group after a six year career with Crosby Homes (Midlands) Ltd. Mr Marcuse-Harris' new role will see him heading up the company's construction division and will involve a comprehensive review of all sub-contractors. He is also expected to strengthen the in-house team during 2004 with a series of new appointments.
Chairman of the Group, Neil Grinnall said: "We now employ a dedicated team of 25 personnel here, as I am a firm believer that in-house expertise is imperative to delivering results. The skills that Jeremy and Harry will bring to the team will transform the way we approach our business. Technical and construction issues are by far the most important elements of the development process and we cannot push forward with our ambitious growth plans without focussing on how we are going to make further improvements in these areas. Both new members of the team will strengthen our insight into how to achieve the best standards in the industry, which will help us to remain ahead of the competition and reinforce our strength in the region."
The Neil Grinnall Group has been responsible for conceptualising Worcester 's city living phenomenon and has built-up an extensive portfolio of residential and mixed-use developments in the region. The company are on target to start construction on over 300 new homes in Worcestershire and the West Midlands during 2004.
Jeremy Ruck's first project will be Neil Grinnall Group's K2 apartment scheme in Worcester city centre, which will incorporate townhouses, apartments and new office space. Mr Ruck will also play a crucial part in the Albion Mill conversion, which is currently seeking planning approval for 78 one and two bedroom apartments within the fabric of Worcester Royal Porcelain's 19 th Century Mill. Fronting Diglis Basin canal in central Worcester , the £12 million scheme is expected to start on site in 2004 and reach completion in 2005.
He comments: "Onerous planning conditions have greatly delayed the lead in time between site acquisition and start of construction. To react to this slowdown in a crucial stage of the development process, I intend to limit the time spent between planning approval and start on site.
"For a complex regeneration scheme, there can be as many as 50 consultants appointed at various stages of the development programme, so it is vital that information is communicated swiftly. Having worked for both architectural practices and major housebuilders, I understand the variety of technical information that is required to commence production of each development and can therefore avoid unnecessary delays in the timeline of each development project."
Mr Marcuse-Harris will oversee the completion of Neil Grinnall Group's Bath Road , K1 and K2 apartment schemes in Worcester city centre and its flagship Hadzor Hall scheme in Droitwich Spa.
Harry Marcuse-Harris, Construction Director for the Neil Grinnall Group comments: "Joining the Neil Grinnall Group gives me a fantastic opportunity to make a real difference to one of the Midlands ' most successful developers. I am well aware of the challenges the industry is facing to maintain and improve standards in construction, especially in light of the current skills shortage. However, I am proud to have established an extensive range of contractors throughout the region who deliver standards at the top of their trade. I will be seeking to combine this new skills base with the introduction of new working practices for all construction work across the company's development portfolio."
Neil Grinnall added: "We have built-up a solid reputation in Worcestershire since 1992 and we now have a prime opportunity to become a major player in the industry, not only regionally, but also on a national level. We have an extensive portfolio of residential developments incorporating a range of executive five bedroom houses through to canalside penthouses, but I want to move the company forward in a very focussed way. We are working on some major land deals throughout Worcestershire and the West Midlands and anticipate being able to make further announcements on new acquisitions in early 2004. "
-ends-
For further information contact:
| | | |
| --- | --- | --- |
| Neil Grinnall / Linda Androlia | | Charlotte Crossley |
| The Neil Grinnall Group | | Core Marketing |
| 01299 827 767 | | 0121 643 8151 |